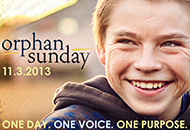 Orphan Sunday is Nov. 3rd in Kansas.
The Kansas Department for Children and Families is asking that communities across Kansas will join together to raise adoption awareness with One Day, One Voice, One Purpose.
The goal is to have many churches and communities across Kansas put up posters as soon as possible. Contact the Department for Children and Families and request resources for this. They have powerpoint, video, and guides for your participation.
A little town in Texas, Possom Trot, has adopted 76 children just in one church. Possom Trot is so small the town doesn't even have a stoplight. Would it be possible for 1 church in each county to adopt a child? That would take care of around 10%. One would trust that there would be a dozen churches in each county that could adopt a child. Of the 995 children that need forever homes, many are teenagers that have never had a home to call their own.  The hope is that the rest of the church body could surround this family and help with expenses, child care, education, baby sitting, spiritual and emotional support.
For more information please contact http://www.dcf.ks.gov or call:
Marie E Yeary
Assistant to Deputy Secretary Anna Pilato
Office Manager
DCF Learning Center
Strategic Development, Faith-based and Community Initiatives
(785)296-2589 Direct